I am so far behind this year on planting, I guess I can blame mother nature for that… Looks like our last frost date was pushed up a few weeks due to our abnormal warm weather. But that ok, because that means we are going to have a longer gardening season! I started out my bed hand tilling the soil to make sure everything is nice and loose, and to get rid of roots that might be left over from last year. I added my pre plant fertilizer and weekly feed to 15′ of my bed, this is the area I'm planting in today. You don't want to add the pre plant fertilizer and weekly feed to the whole bed, because if you're not able to plant the whole bed your wasting your fertilizer. Next you will want to map our with a stick or make a line of where your going to have your PVC pipe for your automatic water system at. This will insure you don't plant right under your watering pipe. The reason why you don't want to plant under your watering pipe is because, this will block the water from getting to the other plants near by.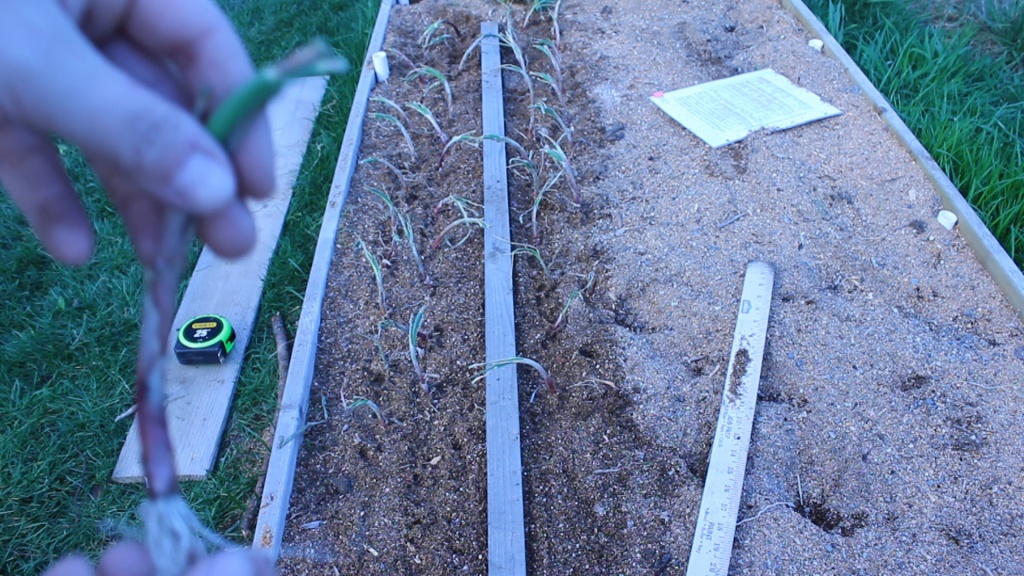 Next you need to mark where you are going to plant your onions. According to the Mittleider planting detail sheet, I'll need to make 4 rows 4″ apart for my 18″ wide planting area. Even though my grow bed is actually 3′ wide, I treat it as 2 18″ bed.
After marking where I'm going to plant my onion starts, I start to pull them apart and plant the onion starts 1″ deep.
Finally, just water your newly planted onion start really well, this will activate the plant start to start growing again! Onions are a very hardy plant that strives to survive and grow.
Here is the video I did on How to plant onion starts using Mittleider Gardening Method!