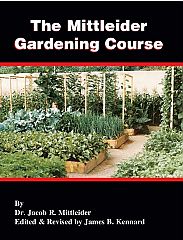 Click here if you would like to purchase this book.
Newly Revised & Updated in 2015! Teaches the practical at-home application of Nature's Immutable Laws of Plant Growth. Provides simple straight-forward instruction and illustrations on the Mittleider System of vegetable and fruit production.
The most educationally sound gardening book available anywhere.
Brand New in 2015!  Edited, revised and updated by James B. Kennard, with numerous revisions and improvements incorporated right into the pages, and new appendices, including illustrations of an in-the-garden greenhouse.
We believe this is the best gardening book on the planet!  The first printing was a collaboration between several BYU Educators and Dr. Mittleider, and the latest publication of the book includes an additional 15 years' wisdom & experience.
Provides simple straight-forward instruction and illustrations on every element of the Mittleider System of growing.  Teaches all the basic topics plus 15 advanced topics, such as cold-weather gardening, pruning for maximum yields, growing plants vertically, solutions to common gardening problems such as controlling bugs and diseases, understanding fertilizers, home seedling production, building an inexpensive greenhouse and more.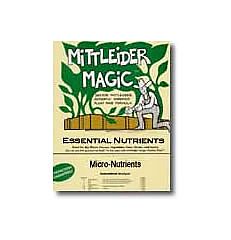 Click here if you would like to purchase the Weekly feed Mittlieder magic micro nutrients.
The micro-nutrients are ESSENTIAL PLANT NUTRIENTS, and every plant in your garden must have them to be healthy!  They are to be used as a part of the complete, balanced Mittleider Magic Weekly Feed Mix that is the best fertilizer for the family garden available anywhere.
They are pre-packaged, so the only other things you have to buy are Epsom Salts at your pharmacy and a bag of 16-16-16 or similar N,P,K blend at your garden shop or nursery. Then mix according to the simple instructions, and you have a good Weekly Feed mix! And for a simple Pre-Plant mix, just add proper amounts of lime or gypsum, Epsom Salts, and 20 Mule Team Borax in a ratio of 80-4-1 (see Fertilizers in the Mittleider Gardening Course).
Mix one 10 oz. package of Micro-Nutrients with 4 lbs. of Epsom Salt (Magnesium Sulfate) and 25 lbs. of 13-13-13, 15-15-15, or 16-16-16 to make your own Weekly-Feed.
Do you live outside of Utah and Idaho (the pre-packaged Weekly Feed and Pre-Plant mixes are available in stores there)? Most people do, and shipping is expensive! The Micro-Mix is a good solution that will let you make your own Weekly Feed Mix easily and inexpensively, without the hassle of buying all 13 ingredients!
We have had to increase the cost for the first time in several years, due to substantial increases in the price we pay for the raw materials.  However, while not inconsequential, it is very small when compared to the value created in your garden.  Like seeds, the return is multiplied many fold.
For example, 20 ounces of Micro-Nutrients become 60 pounds of Weekly Feed when mixed according to instructions.  This will feed 210 tomato plants for the entire growing season, and those plants can produce 2 1/2 to 3 TONS of tomatoes.
Get YOUR supplies of natural mineral nutrients AND your heirloom seeds now!
Packages:

2 – 10 oz. packets to make 60# of Weekly Feed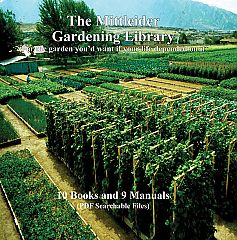 The COMPLETE Mittleider Library on One CD-ROM!
The Mittleider Gardening Library CD includes 11 searchable publications, with ALL TEN of Dr. Mittleider's vegetable gardening books and all nine of his subject-specific manuals (as one publication). Now you can read and study everything written about vegetable gardening by the great Garden Doctor himself on one CD ROM disk, and take it with you anywhere in your pocket or purse!
All TEN books have been completely and accurately digitized, including thousands of pictures, plus every word, chart, and illustration. And depending on your screen resolution, they may look even better than in the originals.
And the NEW PDF version of the Library includes a Schedule of Updates and Improvements Since Publication at the beginning of 5 of the gardening books, This gives you the advantages of having these great gardening books in their original form while also being able to do everything in the best way possible, according to the most recent and best information available.
Want greenhouse plans? Take your pick of several! How about fertilizer formulas! See how they have evolved and improved over the years with experience in every kind of soil, in countries around the world.  Grow in containers or in any kind or condition of soil with great success.  Learn to grow vertically and multiply your yields still further.
How important is having good soil anyway? You'll be surprised, and you'll love the answer!
Did you ever wonder what caused the black heart in potatoes? It's not a disease at all, but a deficiency. Find out which one in a few seconds. How about Blossom-End Rot on ripe tomatoes? Another nutrient deficiency that's SO simple to correct!
Were you told yellow plants mean nitrogen deficiency? Discover the 6 different nutrients that cause yellow leaves when they are deficient. And see several examples of each one on different vegetables and fruits, so you can become the expert in diagnosing problems others just guess at.
With The Garden Doctor at your fingertips, you'll have better information than most college professors, and it's so easy to use!
From 6 Steps to Successful Gardening – the fun graphically illustrated primer – to the college agronomy text Food For Everyone – with 1000 pictures that has made expert (and wealthy) commercial growers in over 20 countries – you'll have a treasury of knowledge from the unique experience of the man who's done it all. And he's documented everything so thoroughly, we all benefit without the painful, time consuming, and costly mistakes!
Supposedly tough gardening subjects have been made clear and understandable – like the importance and proper use of soils, organics, pH, fertilizers, and pest control. You name it and the answers are literally right at your fingertips.
Click the video to see how our family loves the Mittleider gardening method: