Here is a video of what we have done in our office to get organized:
I'm trying to start my own YouTube channel, so as of now I have about 10 videos of different things I have been doing. Its just a way for me to track what I do so at the end of the year I can look back at all the things I have accomplished.
I finally found an organizing system that works for the whole family. I use to have a huge 3 drawer Rubbermaid container in our office for all of our art/craft supplies. But I realized how hard it was to know which drawer held the crayons, markers and scissors. Plus, making sure the kids put them back in the right spot. So after watching some Alejandra.tv YouTube channel, which I highly recommend to anyone trying to get organized, I found a lot of my solutions to my families chaos from this channel.
Here is what i had before:
Here is the after picture: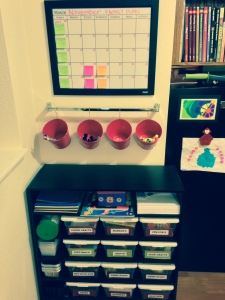 I hope this helps you get new ideas on how to get organized in your own office. It's not easy to be organized with children, but if you stay focus, your kids will stay focused. Now my kids like to organize with me which helps with keeping things clean and neat. It seems that my 2 sons are more clean and organized than my sisters and I where at their age, maybe its a boy thing.
Please leave your questions or comments below, and thank you for stopping by!